In 2024, the hottest layered bob haircuts for women over 60 exude a perfect blend of contemporary flair and timeless sophistication. These modern iterations of the classic bob feature meticulously crafted layers that add volume, texture, and movement to the hair, effortlessly complementing the natural beauty of mature women. Embracing versatility, these styles cater to various preferences, offering options such as asymmetrical bobs, textured layers, angled cuts, and graduated lengths. Whether opting for a sleek and polished look or embracing a more tousled, effortless vibe, these layered bob hairstyles in 2024 are designed to empower women, celebrating their individuality and confidence with a touch of trendy elegance.
The best bob with layers embodies a harmonious fusion of style, functionality, and versatility. This haircut artfully integrates layers into the traditional bob, creating a dynamic and multi-dimensional look that suits various hair textures and face shapes. The layers strategically add depth, movement, and dimension, whether through soft, blended layers for a subtle effect or more pronounced, choppy layers for a textured and edgy appearance. This style offers adaptability, allowing for easy styling versatility, whether it's sleek and sophisticated for a formal setting or tousled and relaxed for a casual day. With its ability to frame the face elegantly while providing volume and character, the bob with layers stands out as a timeless and universally flattering choice that effortlessly elevates one's overall look.
The layered bob with gray covering is a stylish and practical choice for women seeking a sophisticated yet low-maintenance hairstyle. This particular rendition of the layered bob skillfully conceals gray hair while embracing the natural beauty of silver tones. The layers incorporated into the haircut add depth and texture, creating a flattering and youthful appearance. By strategically blending the gray strands with darker or colored layers, this style achieves a seamless transition, offering a chic and graceful look. The layered bob with gray covering not only showcases a trendy and modern aesthetic but also celebrates the elegance and confidence that come with embracing one's natural hair color, making it an ideal choice for mature women seeking a refined and effortlessly chic hairstyle.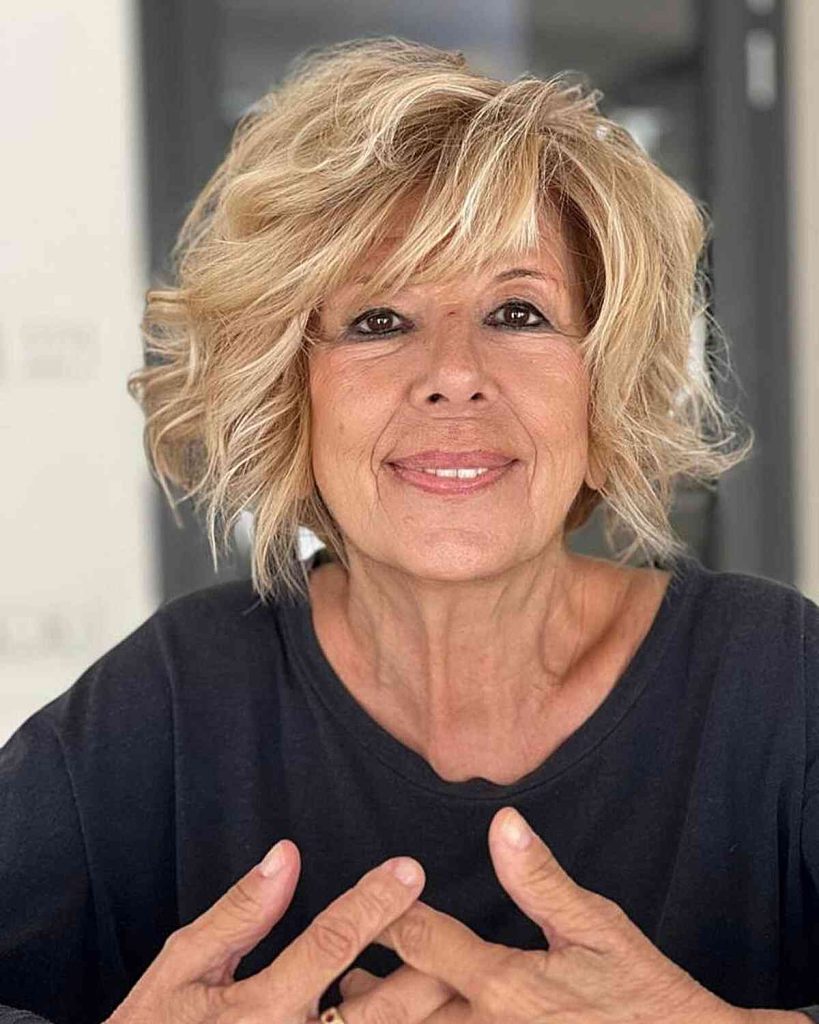 Visible layering on a blonde bob presents a striking and dimensional hairstyle that beautifully enhances the overall texture and movement of the hair. This particular style emphasizes the layers, allowing them to be distinctly visible against the blonde hue, creating depth and dimension. The layers are strategically crafted to add volume, shape, and dynamism to the haircut, providing a sense of lightness and airiness to the strands. The blonde color further accentuates the layered effect, showcasing a multidimensional and vibrant look. Whether it's a subtle variation in shades or more pronounced contrasts, visible layering on a blonde bob infuses a sense of playfulness and modernity into the hairstyle, making it an excellent choice for those looking to exude both elegance and a touch of contemporary flair.

The Flowy Hawaiian layered bob hairstyle embodies a fusion of island charm and contemporary elegance, creating a breezy and relaxed yet stylish look. Inspired by the laid-back essence of Hawaiian vibes, this hairstyle features meticulously layered bob cuts that evoke a sense of effortless movement and fluidity. The layers are expertly crafted to cascade gently, offering a natural flow that mimics the gentle sway of palm trees in the Hawaiian breeze. Often adorned with beachy waves or loose curls, this hairstyle captures the essence of a carefree tropical lifestyle, exuding a sense of casual sophistication. The Flowy Hawaiian layered bob celebrates versatility, offering a chic option for those seeking a hairdo that reflects the easygoing spirit of the islands while maintaining an air of modern allure.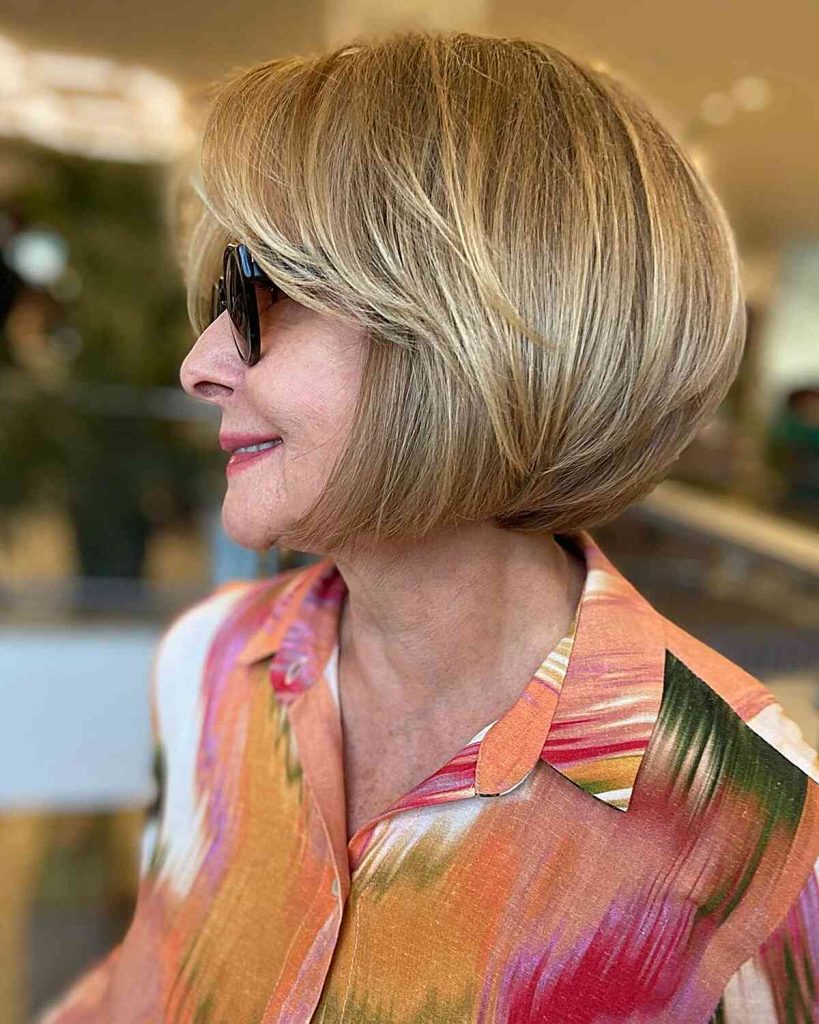 Feminine visible layers epitomize a delicate and graceful hairstyle that accentuates femininity and sophistication. This style incorporates distinct layers carefully crafted to create softness and movement, enhancing the overall texture of the hair. Visible layers, often framing the face elegantly, bring attention to different lengths and textures, providing a gentle and feminine allure. These layers add volume and depth while maintaining a sense of subtlety, imparting a touch of effortless charm and grace. Whether styled sleek and polished or with tousled waves, the feminine visible layers effortlessly exude a timeless elegance that complements various face shapes and hair types, making it a go-to choice for those seeking a refined and feminine look.
The cute choppy fringe paired with a layered bob presents a playful and trendy hairstyle that exudes a youthful and chic vibe. This style combines the classic layered bob with a textured and slightly disheveled fringe, adding a touch of edginess and personality. The choppy fringe, cut at varying lengths and angles, frames the face artfully, creating a stylish focal point while offering versatility in styling. Blending seamlessly with the layers of the bob, this fringe adds a dynamic dimension to the haircut, infusing a sense of movement and character. Whether worn straight and sleek or tousled for a more casual look, the cute choppy fringe on a layered bob brings a modern twist to a timeless haircut, perfect for those seeking a fun and fashionable hairstyle.
The white-grey long bob represents a sophisticated and contemporary take on hair color and style, showcasing the natural beauty of silver and white tones. This elegant hairstyle features a long bob cut with hues that emphasize the stunning blend of white and grey shades. The lighter tones complement each other, creating a striking and refined look that exudes confidence and grace. The length of the long bob offers versatility, allowing for various styling options, from sleek and straight to tousled waves, showcasing the versatility of this captivating color blend. Whether worn with a blunt cut or subtle layers, the white-grey long bob stands as a fashionable and timeless choice, symbolizing a blend of maturity, confidence, and modernity in one stylish package.
The layered bob with natural color epitomizes effortless sophistication, embracing the beauty of one's authentic hair hue while incorporating layers for added dimension and style. This versatile haircut combines the timeless appeal of a bob with the richness and authenticity of natural hair color. The layers artfully woven into the hairstyle add movement, texture, and volume, enhancing the overall look without compromising the integrity of the hair's inherent color. Whether styled sleek and polished or with tousled waves, this hairstyle celebrates the beauty of embracing one's natural hair color while offering a chic and modern twist through the incorporation of layers, making it an ideal choice for those seeking an effortlessly elegant and low-maintenance yet stylish look.
The deeply side-parted tousled bob encapsulates a trendy and effortlessly chic hairstyle that combines a bold side parting with tousled waves for a stylish and contemporary look. This haircut features a deep side part that adds a dramatic flair, creating asymmetry and framing the face attractively. The tousled waves or curls incorporated into the bob add texture and volume, infusing a relaxed and carefree vibe into the style. Whether worn sleek or with a textured finish, this hairstyle offers versatility and a touch of playful elegance. The deeply side-parted tousled bob exudes a sense of confidence and fashion-forwardness, making it an ideal choice for those seeking a modern twist on a classic bob with a hint of effortless allure.
The precision cut layered bob exemplifies a meticulously crafted hairstyle that showcases sharp, defined layers to create a sleek and polished look. This haircut is characterized by precise and carefully executed layers, meticulously tailored to accentuate the hair's natural movement and texture. The clean lines and precise angles of this hairstyle give it a sophisticated and refined appearance. The layers are expertly structured to add volume, dimension, and shape, offering versatility in styling options while maintaining a sleek and well-defined silhouette. The precision cut layered bob exudes an air of sophistication and elegance, making it a timeless choice for those who appreciate a perfectly tailored and effortlessly chic hairstyle.